Five of my best friends came over for my party. They gave me some really awesome gifts. It's always so nice when you realize your friends know exactly what you like and know just what to pick to make you happy, and they don't even have to spend lots of money to do it.
I got a mystery book, a Hello Kitty journal with stickers, a poster with real samples of all the common rocks and minerals you can find in Michigan, a pack of Nancy Drew postcards that are just the right size to be posters for me, and a special flashlight that doesn't need any batteries - you shake it for about thirty seconds and then it lights up! This is just perfect for someone who wants to be a detective like me. Nancy Drew always keeps a flashlight around to help her solve mysteries, but it seems to run out of battery power at very inopportune times for her. I won't have to worry about this happening to me!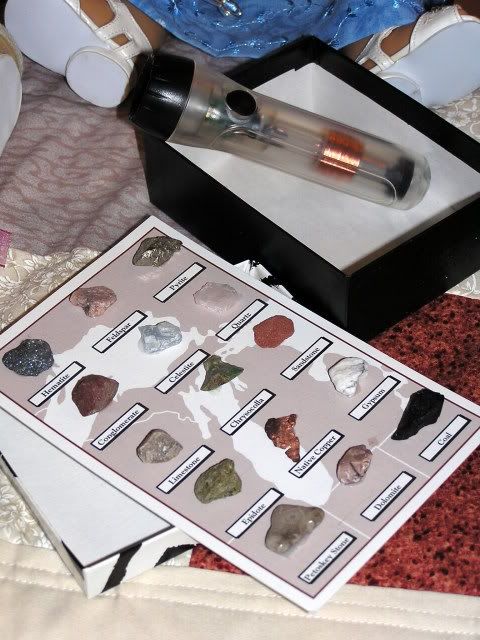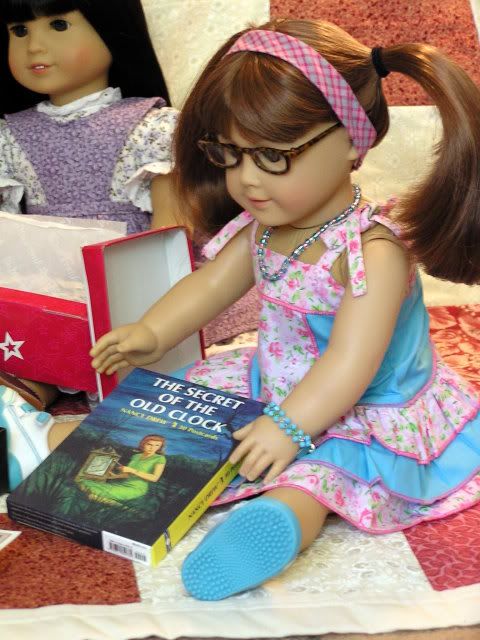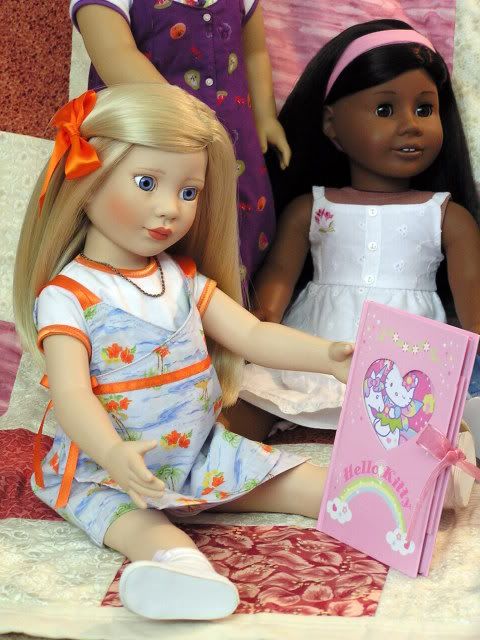 But, there's more.
(
Click here to see me get majorly surprised!
Collapse
)
Wow, wow, wow, what a great tenth birthday party I had today!! I am still so excited from everything, I don't know how I will ever fall asleep!
Current Mood:

ecstatic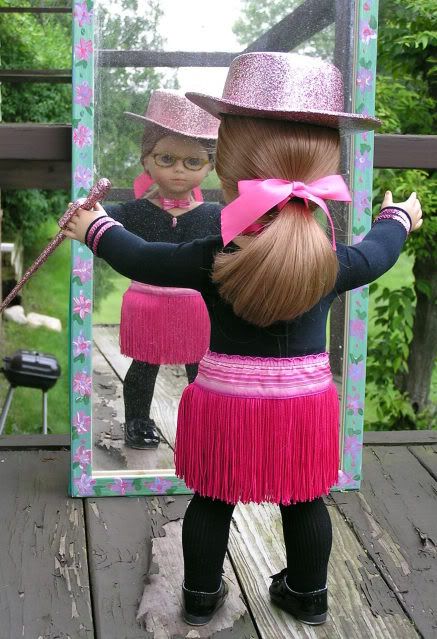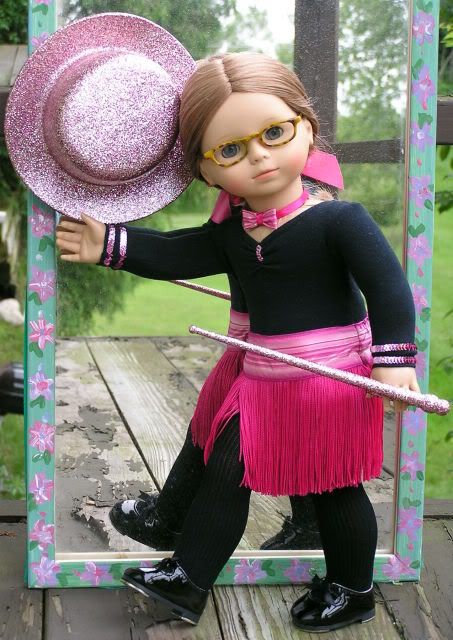 I'm not sure if there is anything more exciting than standing backstage in an auditorium, about to perform in front of a big audience. I was so excited and nervous waiting for the curtain to rise, I was ready to leap out of my tap shoes! But once the music came on, I realized my feet still knew what to do, even though dancing on a big stage was a lot different than dancing in the studio, or in my kitchen or on the balcony. And the lights were so bright, I really couldn't see the people in the audience, which helped. I could hear them, though - coughing and rustling their programs and stuff. And when we finished our dance, the applause sounded so loud, I just grinned and grinned, and I didn't want to leave the stage after we took our bows. I wish I could do it all over again!
However, I have other news that isn't so good. :-( Today was the day I was supposed to give Katie half of the money for my Nancy Drew doll so she can order it in time for my party. My birthday is tomorrow, but I thought it would be more fun to open my doll at my birthday party this weekend, plus it would give me a little bit more time to earn the money. Well...I did not earn enough. I came close, but I am a little bit short. I'm so disappointed! Even though I came very close to my goal, I know that is not good enough. Katie is tough about these things - when she makes a deal with you, if you don't do exactly what you agreed upon, you're out of luck. She does not show mercy if you fall short. :-( So I know I will not get my Nancy Drew doll for my birthday. I will keep working to get the rest of the money saved, I guess, and just order her later when I have met the goal. I am trying not to be too upset, though, because I know my party will still be really fun, and I can't wait for my friends to come over!
Here are the pictures I promised of me in my tap costume!! I did a final run-through the morning of the recital out on my balcony. I was so worried I would forget the routine, but I didn't!
Current Mood:

disappointed
This is Toby! Isn't he cute? He was very heavy to hold up for this picture, and squirmy. But unless you hold him you can't really get a good picture of his little face, because he is always moving around at top speed and sniffing at things.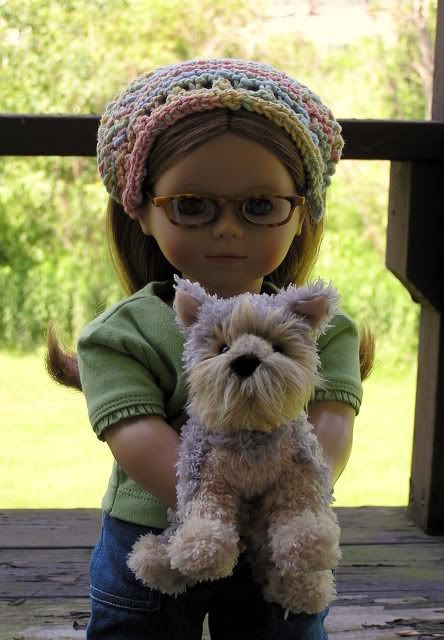 Although he is cute, he does not listen to me as well as he does to Kim. He pretends he cannot hear me when I talk to him sometimes, I think. I watched an episode of the
The Dog Whisperer
last night to try and learn how to be a better "pack leader," as Cesar Millan says!
I had to wash the dishes last night and scrub the bathtub to earn more money. Ick, ick, and more ick, is all I have to say about those jobs! Katie is so cheap and hardly pays me anything for housework, and it's way less fun than pet sitting. How come the crummiest jobs always pay the worst, anyway??
This weekend I will get a break from working, though, because Sunday is my dance recital!! My tap dance class is doing a routine to "Puttin' on the Ritz." You should see my costume - it's so awesome!! I will post a picture of me after my recital, all dressed up. :-) I can't wait!
Well, this is my first week off from school for summer vacation! I am still working awfully hard, though, to earn enough money for my Nancy Drew doll. First I took care of Kim's dog, Toby, over Memorial Day weekend, and now I am taking care of him again for a few days this week while her family is camping. Normally Kim takes Toby with when her family camps, so I suspect she has left him behind these last couple of times just to help me earn the money for Nancy. What a great friend she is!!
Current Mood:

working
In 2008 I went to the Sleeping Bear Dunes National Lakeshore up north, and had a great time hiking and climbing sand dunes and hunting for Petoskey stones: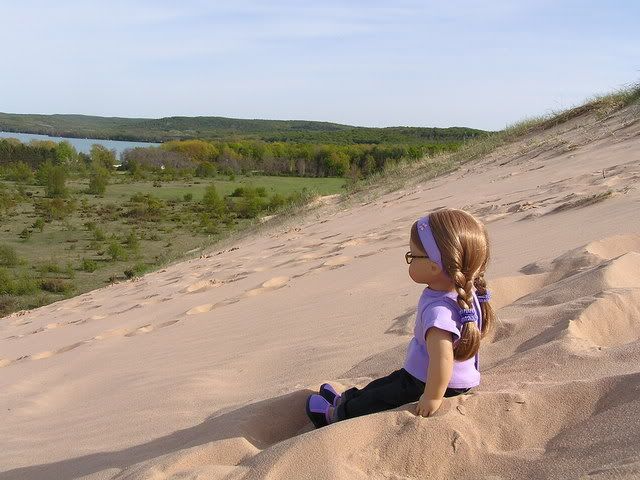 In 2009 my friend Hodel was here visiting and we hosted a fancy party for all of my friends:
This year, I will be doing a lot of work. But, it's for a good reason. When I told Katie that what I really wanted for my birthday more than anything was an American Girl Emily doll to make into Nancy Drew, she said if I could earn half of the money for her, she would pay for the other half and order her for my birthday. So that means I have less than one month to earn a LOT of money if I want to get my Nancy at my party. I have my first job to do this weekend - my friend Kim is going camping for two days with her family, and they are paying me to go to their house and feed and walk Kim's dog, Toby. I like Toby, so I think it will be pretty fun. But I am also going to help around my house with lots of spring cleaning - vacuuming and scrubbing and washing and straightening, and it will not be very much fun, or profitable. But I have to do it, to get as much money as I can for Nancy. I hope I can still find time for some fun somewhere in this weekend!
It's now officially Memorial Day weekend - no school on Monday! I don't think it will be quite as exciting as my last few Memorial Days, though.
Current Mood:

determined
The one thing that would make my detective birthday the absolute best and most perfect ever, would be if I got an American Girl Emily doll for a present. I would not keep her as Emily, though...I would turn her into a Nancy Drew doll. I think she would look perfect as Nancy. I want her sooo much! I look at the catalog practically every day and dream about opening her up before I fall asleep at night. But American Girl dolls are expensive, and I don't know if Katie will want to get one for me this year. :-( I might have to wait until Christmas so I can ask Santa Claus, and be as good as I can be until then. I wish it wasn't so hard for a kid to earn money, or I would try to buy her myself. It takes so long to save up for something like an American Girl doll! I'm not old enough to babysit and I'm not big enough to mow lawns, which is where all the big money is around here. I can get a few dollars or cents, depending on the job, for doing little things around the house, but I think I would have to become like Cinderella and do nothing but scrub and dust and polish every day to save enough before the year is over. 25 or 50 cents for a chore doesn't make the saving go very fast. :-( Oh well. I will ask and see what happens, and maybe I will get lucky.
Dreaming of Nancy, my partner in crime (solving them, that is)!
Guess what. In exactly one month, on June 17, I will be ten years old! I can't wait to be in double digits! Even though a month is a long time away, I have started planning my birthday party. It is going to have a detective theme. I'm going to hide goodie bags for my guests around the house and write clues for each of them that they will have to follow to find their bag! I'm not sure what other good detective games we will play yet - I'll have to think hard and come up with some more. I think my friends will like my theme, though!
Current Mood:

hopeful
Do you want to know why I've been so busy and missing in action? Well, this is why - I'm trying to write my very own mystery book! I love my Nancy Drew books so much, I thought it would be fun to write a mystery myself. It all started when I came up with the title one day when I was daydreaming during math. It is called
The Secret of the Forgotten Waterfall.
Isn't that a beautiful and mysterious title? I think you're probably supposed to write your book first and THEN come up with a title, but I didn't get inspired to write the book until I thought of the title.
The heroine of my book is a girl detective named Susie Marie Moxley. She goes on a vacation to Wyoming, in the mountains, and hears about an old waterfall that hasn't been seen in years, and nobody seems to remember exactly where it is. People are always coming to the mountains to look for it because there's an old legend of a treasure hidden behind the waterfall, so lots of people want to find it. Susie Marie Moxley decides she would like to try and find the waterfall and the treasure, too, but as soon as she starts looking, a mysterious unknown person starts sabotaging her. She tries to rent a mountain bike so she can ride trails to look for the waterfall, but when she stops for a break, someone slashes her bike tires! That's as far as I got so far. I have to think up some more ways the bad guy can try to stop Susie Marie from finding the waterfall, and I have to figure out what the treasure will be, and come up with lots of suspects to keep people guessing, and lots of other stuff. It's hard work to write a mystery book. Especially if you haven't quite figured out all the details before you start! Oh well. It's fun anyway.
I plan to finish writing my book by the summer, so that I will have plenty of time to spend on something else - searching for dinosaur bones and fossils! Right now it is my biggest dream to discover a brand new species of dinosaur someday, and get to name it and travel around the world giving lectures about it. So I think I should start looking right now, and then maybe by the time I am very old I will have accomplished this dream. I am going to start collecting fossil hunting equipment like shovels and brushes and things so that I can go to work as soon as school is over. I can't wait!!!
I always like to put a picture in my posts, but I don't have any nice new ones, so I'm going to show you an old one instead - this is the very first picture Katie ever took of me with her good digital camera. This was years ago, and I don't even have my glasses yet!! Don't I look weird? I wasn't even named Anna Lee yet, either! I was still figuring out who I was. I'm glad I know now. :-)
Okay, so I feel terrible for not posting in sooo long! I got back from my trip to Ohio ages and ages ago, but I've just been so busy I'm afraid I've been neglecting my blog. :-(
Current Mood:

creative
I'm finally here!
Well, actually I've been in Cincinnati for almost a week now, but it's been busy, busy, busy with everything you could imagine.
This time of year, January specifically, is HIGHLY busy! It's one birthday after the next. It's quite exciting actually!
I arrived here on January 6th, so I've been here a week. It's nice to be back in Ohio! Last summer, Hodel came to visit me for a few weeks, and in return, I went to stay with her for a few weeks before school started.
Anyway, when I got here, a very kind lady who looked terribly like Alyosha answered the door. It is only 18 degrees in Cincinnati (Warmer then back home but still, far to cold to stay outside very long.) Alyosha's mom gave me some hot chocolate after I brought my things to Hodel's new bedroom downstairs. Then I ventured back upstairs to drink my hot coco and watch The Little Mermaid with Alyosha's mom until Hodel or Alyosha came home.
Hodel came home first! I was so glad to finally see her again. Of corse, then we had to go to her room and catch up on absolutly EVERYTHING!
We stayed up and watched Aladdin until Alyosha told us we had to go to bed. I got to wear footie pajamas that didn't fit Hodel anymore. They were very comfy cozy! Alyosha turned off the lights, and told us to go to bed... We didn't! We talked until almost two in the morning! Oh my!
The next day was thankfully a snow day! Four inches of snow isn't half bad! We went sledding at Alder Creek (The Fairy creek we visited in the summer!) early in the morning. When we went though, our sled went right over the water, because it was so think with ice. It made us go supper fast too!
It also happened to be Chava, one of Hodel's younger sister's, birthdays. So... We had a pajama party!
This week it has been too cold and snowy to do much besides sit inside with a good movie. Hodel said we can put on a play on Friday though. I'm excited!
That's all!
Anna Lee Merced
This is the first time I have gone on a trip since getting my pet guinea pig, Ginger Rogers, so now I have to find someone to take care of her while I am away. I asked my friend Min, and she said yes, after hesitating for kind of a long time. You see, the first time Min met Ginger Rogers, Ginger Rogers bit her pinky finger. I told Min it was because she was wearing orange gloves, so of course her fingers looked like carrots to Ginger Rogers. And Ginger Rogers loves carrots more than just about anything in the world. Min wasn't too sure about that. But she came over to get Ginger Rogers' cage and treats today, and petted her and held her with no problem. So I think everything will be fine. I gave Ginger Rogers strict instructions to be on her best behavior for Min, so hopefully she will listen.
Cincinnati, here I come! This is me with Hodel when she came to visit Michigan last spring. We had a ton of fun.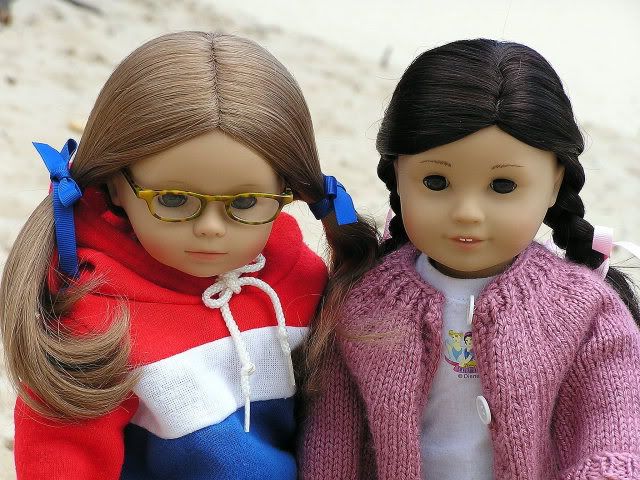 Guess what, guess what?! I get to see my friend Hodel again!!! By the time you read this I will be on my way to Cincinnati to visit her. I'm so excited! I've really missed her.
Current Mood:

ecstatic
Last night we had a huge ice storm. I woke up at three in the morning because the ice was pelting against the windows, and it was really loud! I was hoping to hear Santa's sleigh bells, but instead, I just heard ice. I knew Santa would still make it through to deliver my presents, though, because a little ice can't stop Santa Claus.
And sure enough, when I got up this morning there were presents under the tree for me! One of my best presents was Katie's gift to me, a penguin quilt! She made it herself, and it's extra special because my friend Hodel gave me the penguin material when I visited her last summer. There is black velvet material all around the penguin scene and it is so, so soft. I can't wait to go to sleep tonight all cuddled up underneath it.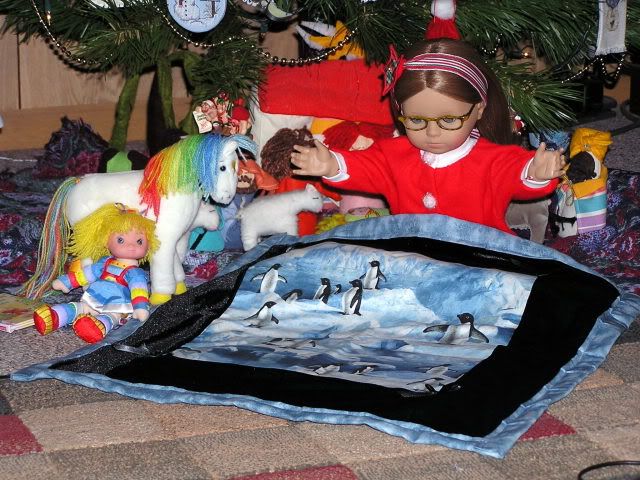 My other two best presents are from Santa Claus - a Rainbow Brite doll and her horse, Starlite!!! I already have Rainbow Brite's sprite, Twink, and Twink really needed his best friends here with him. I asked Santa for either Rainbow Brite OR Starlite the horse, because I never dreamed I could get both at once. A doll and a horse are both pretty big presents, after all. I still can't even believe I really got them! Santa Claus must have thought I was really good this year! I've been playing with Rainbow Brite and Starlite all day. I didn't even change out of my pajamas until noon because I couldn't stop playing!
I hope everyone is having a wonderful Christmas! I have to get going, because Rainbow Brite, Starlite, and Twink have to finish their latest adventure before Christmas dinner is ready. Rainbow Brite has gotten caught by the bad guys and is locked up, and Twink and Starlite have to come up with a plan to break her out so she can continue her important job of bringing color into the world. :-)
Merry Christmas from Anna Lee, Rainbow Brite, Starlite, and Twink!
What an awesome Christmas I'm having! Today is the first year that my family got to stay at our own home for Christmas Eve and Christmas Day. We didn't have to go drive for hours to visit any other family members - we got to sleep in our own beds and do whatever we wanted. I love it!
Current Mood:

ecstatic
As soon as I got up this morning, I ran out to put the second-to-last ornament on the Christmas tree needlepoint advent calendar. I do that every morning in December to count down the days till Christmas! It's so exciting when you get down to the last few ornaments.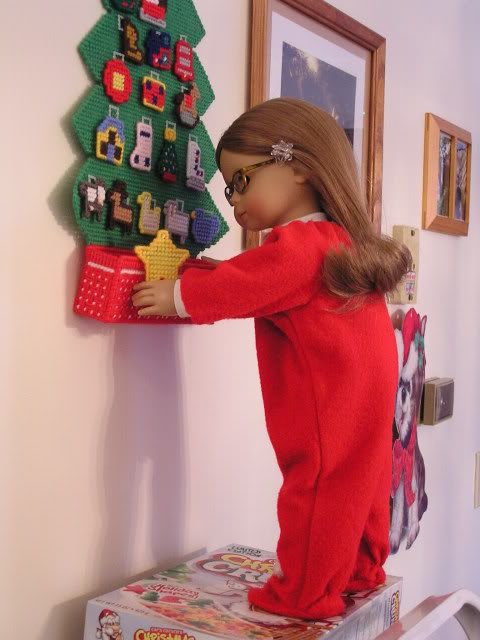 (
Click here to see lots more pictures of my Christmas Eve!
Collapse
)
Today is my favorite day of the whole year - Christmas Eve! Yes, I do like Christmas Eve even better than Christmas Day, because of all the excitement and anticipation of waiting for Christmas magic and Santa and presents to come in the morning.
Current Mood:

giddy